"Come Home To Slumberland Contest" Terms & Conditions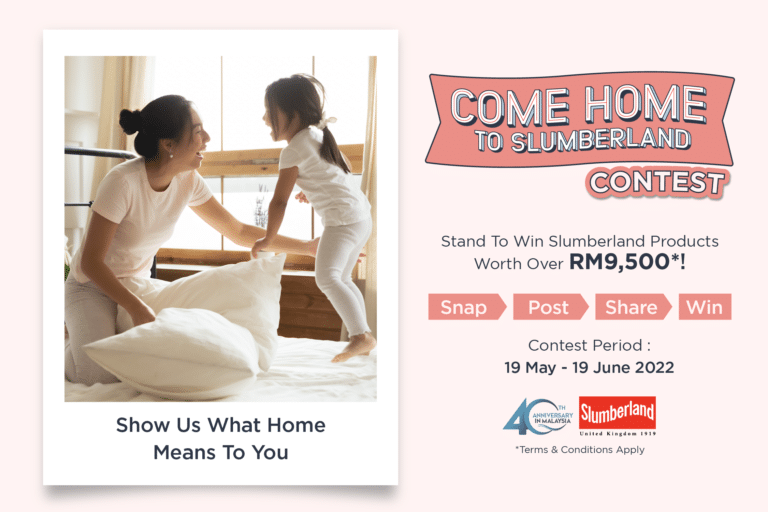 Terms & Conditions
1. Come Home To Slumberland Contest ("the Contest") is organised by Slumberland Malaysia (hereinafter referred to as "the Organiser" or "Slumberland").
2. The Contest commences on 19 May 2022 and ends on 19 June 2022, 11.59 pm inclusive of both dates ("Contest Period"). Entries that are received after the Contest Period shall not be accepted.
3. The contest will be run on Slumberland's social media pages (Facebook and Instagram) only.
4. The Organiser may at its sole and absolute discretion extend the Contest Period at any time without prior notice to all participants. Unless otherwise varied to the contrary by the Organiser, any participation in the Contest during the extended period (if any) shall be governed by the Terms and Conditions set out herein.
5. The Organiser may modify the Contest's mechanisms, withdraw or terminate this Contest.
6. By participating in the Contest, the participants agree to be bound by all the Terms and Conditions below.
7. The winning entry will be selected based on creativity.
8. Winners will be selected from both social platforms; Facebook and Instagram respectively.
9. Slumberland Malaysia's decision in any matter in relation to the contest shall be final, conclusive and not subject to any review. Any request for appeal and review shall not be entertained.
10. The Organiser reserves the right at its absolute discretion to substitute any of the prizes with alternative prizes of similar value at any time without prior notice.
11. All the prizes given on an "as is" basis and shall not be exchangeable or sold for cash, credit, other items or voucher in part or in full and are non-transferable to any other person.